News

Welcome to the FACHOWIEC website. We are the largest wholesaler of pneumatic-welding profile in Wielkopolska and a leader in providing high quality products for warehouses, shops, utilities, industrial plants, garages, and mixing paints. For over 20 years we supply customers with products known and reputable brands such as: Shamal compressors, Profi Kompressoren compressors, Star spray guns, welding equipment Welder Fantasy.

Because we are direct and exclusive importer of the equipment we can offer the best prices and quick availability of ordered products.

Currently, wholesale supplies FACHOWIEC equipment several thousand wholesale and retail outlets throughout the Polish and European Union countries, which puts us at the forefront of national and international importers of pneumatic-welding equipment. In our offer are of superior screw and reciprocating compressors, spray guns, air preparation equipment, distribution systems, compressed air and pneumatic connections and hoses. We also offer a wide range of welding tools, from welding equipment and accessories, and personal protection. Our customers can choose from cutting-edge devices based on the most recent global trends in technology. All our products are covered by 12 month warranty and have a technical boot and additional certifications or documents required for the equipment.
The company "FACHOWIEC" participates in the most important trade fair in Poland exhibition related with industry and automotive: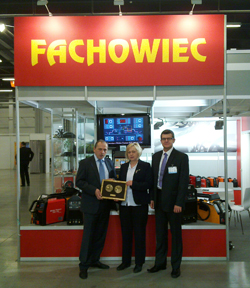 2014* Poznań International Fair
            MACH-TOOL
           
2014* International Fair of Technology and
            Equipment for Welding Kielce
            AWARD - JET TIG III 200 AC/DC inverter

2013* International Fair of Technology and
            Equipment for Welding Kielce
            AWARD - Synergia welding machines
            MEDAL - MAG spool gun

2011* Poznań International Fair
            Welding Academy

2010* Construction Technology Innovation
            Welding Poznań

2010* Welding Kielce International Fair
            Kielce
2009* HAP EXPO Fair for Hydraulics,
            Automation and Pneumatics Sosnowiec